Standard Chartered Plc became the third European bank in less than two weeks to announce sweeping job cuts, bringing the total planned reductions to more than 30,000, or almost one in seven positions.
The London-based firm said Tuesday it will eliminate 15,000 jobs, or 17 percent of its workforce, as soaring bad loans in emerging markets hurt earnings. Deutsche Bank AG, based in Frankfurt, last week announced plans for 11,000 job cuts, while Credit Suisse Group AG said it would trim as many as 5,600 employees.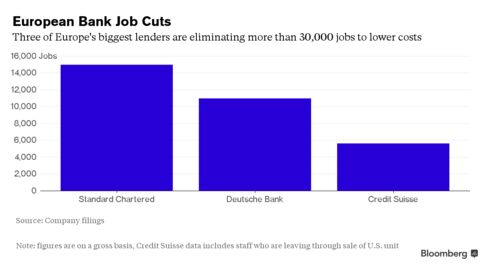 The three firms, which all named new chief executive officers this year, are undertaking the deepest overhauls since the financial crisis as stricter capital rules erode profitability. Standard Chartered and Zurich-based Credit Suisse will tap shareholders for funds, while Deutsche Bank scrapped its dividend for this year and next to conserve capital.
"It's just further evidence that Europe's banks didn't adapt quickly enough to
the post-crisis world and are now playing catch up," said Christopher Wheeler,
an analyst at Atlantic Equities LLP in London.
UniCredit Next?
More bloodletting may be on the way. Milan-based UniCredit SpA is considering as many as 12,000 job cuts as it seeks to improve profit and capital levels, people with knowledge of the discussions said last week. The numbers, which are still under review, increased from 10,000 a month ago and may change depending on the outcome of asset sales. The largest Italian bank reports earnings next week.
Including jobs lost through asset sales, John Cryan, Deutsche Bank's co-CEO since July, intends to eliminate 26,000 employees, or a quarter of the workforce, by 2018. Tidjane Thiam, Credit Suisse's new CEO, will shed jobs in the U.S., U.K. and Switzerland.
At Standard Chartered, new CEO Bill Winters aims to save $2.9 billion by 2018. The bank will also restructure or exit $100 billion of assets after it reported an unexpected third-quarter loss. Winters scrapped the dividend for the second half of this year, the first such move since at least 1988.
"These banks have to be seen to be doing something, especially if they have a new CEO in place," said Andre Spicer, a professor at Cass Business School at City University in London. "Doing nothing is not an option."
Bloomberg