Ethiopia's Olympic Marathon Silver Medalist to seek asylum in America
Ethiopia's Olympic marathon silver medallist Feyisa Lilesa who political protest at the finish line has put Ethiopia's biggest ethnic group the Oromo and their protest for freedom back in the limelight.
However it has put him in personal danger and he faces jail time if he returns to ethiopia. Lilesa claims most of his relatives are in Jail.
Lilesa claims most of his relatives are in Jail.
In the interview, Lilesa says he may try to get a visa and move to America, and that he would be killed or jailed if he returns to Ethiopia.
However for the time being he says he has a pass to train in Kenya and that is where he will be going from Rio.
Ethiopian political unease bubbling over into track meets is nothing new. Four Ethiopian runners defected during the 2014 IAAF World Junior Championships in Eugene, Oregon, and are now seeking asylum in the United States. Those athletes, like Lilesa, were opposed to the Ethiopian government's treatment of Oromo people.
Ethiopian runner Feyisa Lilesa who made protest gesture in Rio wants to stay in U.S
An Ethiopian marathon runner who made a protest gesture against government violence versus members of his tribe at last month's Olympic Games in Rio de Janeiro told reporters in Washington on Tuesday that he wants to stay in the United States.
Feyisa Lilesa held his arms over his head, wrists crossed, as he finished second in the Olympic marathon, a gesture that he described as being a sign of support for members of his Oromo tribe who have been protesting government plans to reallocate farmland. The protests have been met with violent police action, sparking the country's worst unrest in more than a decade.
"At the moment, the Ethiopian government is killing and imprisoning its own people," Lilesa told a news conference. "If this situation continues as is, I have no doubt Ethiopia is staring at the abyss."
Ethiopian officials were not immediately available to comment on Lilesa's claims.
The country has long been one of the world's poorest nations but has industrialized rapidly in the past decade. The government's plan to reallocate land near the capital proved a thorny issue in a country where many are subsistence farmers.
Authorities scrapped the scheme in January, but protests continued over the detention of opposition demonstrators and rights groups say hundreds have been killed. The government disputes the figures and says illegal protests by "anti-peace forces" have been brought under control.
After his silver medal performance, Lilesa said he was concerned that he would not be safe if he returned home after making the protest gesture, though Ethiopian officials said they were ready to welcome him home. [nL8N1B33BL]
Speaking through an interpreter, Lilesa on Tuesday told reporters he did not take that offer seriously.
He has since entered the United States on a temporary visa and is considering settling in Arizona or New Mexico, where he has friends, Lilesa told reporters.
But he rejected the idea of changing his nationality, or competing under another nation's flag.
"I am asking for freedom for my people, not asylum in the United States," he said. "The government has lost legitimacy, they are just using the power of the gun to maintain control."
Another Ethiopian athlete Tamiru Demisse in protest against regime
Ethiopian Paralympic runner Tamiru Demisse crossed his arms above his head in a political protest as he went over the finish line in Rio.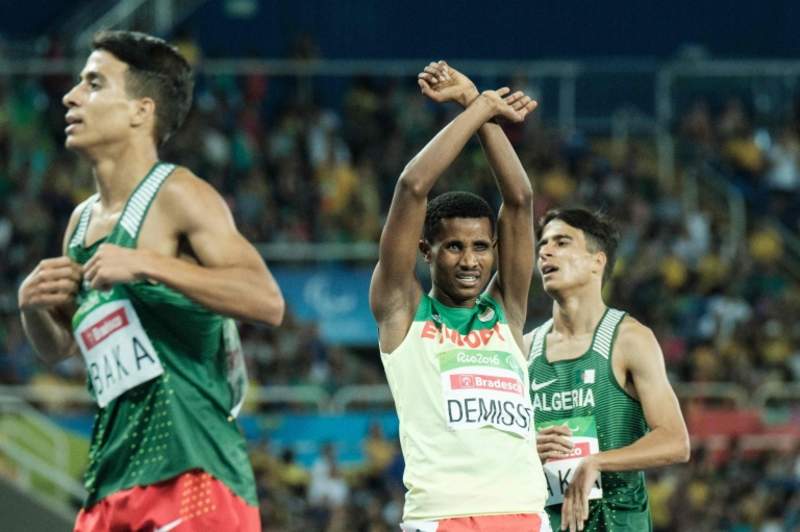 Tamiru came in second in his 1500m T13 race for visually impaired runners.
The gesture echoed the one made by compatriot Feyisa Lilesa at the end of the Olympic marathon.
It refers to protesters from the Oromo ethnic group in Ethiopia who have been involved in months of demonstrations as they demand greater political rights.
Feyisa is now in the United States after saying it was not safe for him to return home.
Tamiru's 1500m race was also notable for the fact that the top three runners, Algeria's Abdellatif Baka, Tamiru and Kenya's Henry Kirwa, all ran times faster than the winner of the Olympic 1500m race.
Kenya arrests three officials over Rio Olympics mismanagement
Kenya has arrested three top members of its Olympic committee, a Reuters witness said, after mismanagement of the contingent nearly derailed the country's participation in the Rio Games.
The east African nation notched up its biggest ever haul of medals in Brazil but doping and organisational challenges had plagued its preparations in the run-up to the event.
On Friday, chef de mission Stephen arap Soi and assistant secretary of the National Olympic Committee of Kenya (NOC-K) James Chacha were taken to a police station in Nairobi upon arrival from the Olympics, alongside the body's Secretary General F. K. Paul, according to the witness.
Another official, Chief Executive of Athletics Kenya Susan Kamau, told Reuters she too was questioned by police but shortly released.
With six golds, as many silvers and one bronze medal, Kenya finished second only to the United States in the athletics table, making South America's first Olympic Games its best outing so far.
But its athletics pedigree has been tainted with up to 40 runners failing dope tests in the past four years. Its struggle to convince authorities it was taking the issue seriously threatened its participation in Rio.
In April, Kenya's president signed into law a bill criminalising doping, as demanded by the World Anti-Doping Agency, to avoid a Rio ban and the government has promised a tighter rein in the future.
At the Games, Kenya's Olympic committee sent home a sprinting coach after he was accused of posing as an athlete to doping testers. The coach said he had borrowed an accreditation pass to seek a meal in the athletes' village.
Kenya's athletics manager was also sent home from the Olympics and is being detained while police investigate allegations that he had warned athletes before the Games about drugs tests in return for cash. He denies any wrongdoing.
Government officials had warned of measures against officials accused of mismanaging preparations ahead of the competition's conclusion.
On Thursday, Sports Minister Hassan Wario said he had disbanded NOC-K and set up a committee to probe mismanagement. It will report its findings by Sept. 30.